Austin Natural Mattress is a home-grown, locally-owned Austin mattress store. Owners Shane and Kristin Coker and sleep experts Charles Roberts, James Grantham and Kyle Phillips strive to bring our customers simply the finest in clean sleep technology at the lowest prices in Austin. We've been serving Austin since 1998 with a new philosophy:
The price of a quality mattress shouldn't include a steep markup.
Customers should have time to try a mattress — without any restocking fees if they decide to exchange it.
First, do no harm.  Natural and organic mattresses make for a healthier lifestyle and a better night's sleep.
A Cleaner, Greener Night's Sleep from a Mattress Store That Cares
Traditional mattresses are made from chemicals and materials that can harm the people who sleep on them and their families. They use toxic off-gassing chemical compounds like petroleum-based polyurethane foam and chemical glues in their construction, and, since 2007, toxic chemical spray on fire retardants that off gas into your families home atmosphere.  Please see the Why Buy A Natural Mattress  page for more information and science on this topic.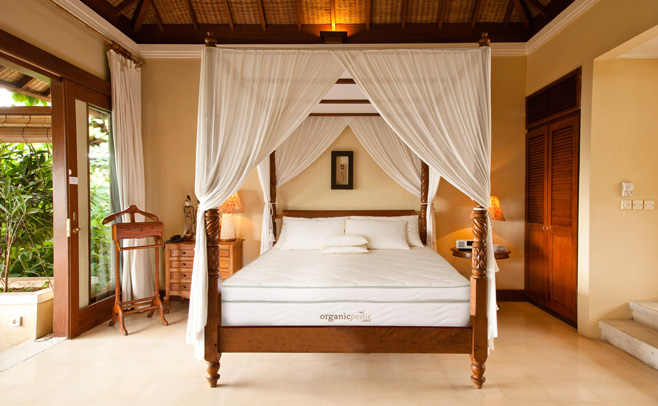 Current fire retardant standards call for a mattress to receive an open blow torch flame for 30 minutes without combusting. Traditional mattress manufacturers achieve this with the use of off-gassing toxic chemicals and carcinogens. At Austin Natural Mattress, our organic mattress collections achieve fire retardant compliance with the use of inert organic means, such as certified organic wool.
There are many mattresses on the market today that are described in terms of being "natural." They might be called organic, maybe green, or even eco-friendly. Shoppers have many choices, and its important to know what these terms really mean. Come in, we'll tell ya'! Increasingly, consumers want sustainable products that are better for the environment, both at large and at home. So making a decision about what to buy, based on different manufacturer's claims, is the challenge. Consumers need to determine what a mattress is actually made of, beyond the "natural" marketing language. With more and more healthy choices on the market, it's clear that mattress manufacturers are responding to demand with innovative products that are well worth the time to consider.
When we talk about a mattress being "natural", or "organic', these terms mean something. Natural mattresses should have some percentage of their constituent parts that are natural, and should have replaced the very harmful toxic chemical spray on fire retardants found in traditional mattresses with some cleaner alternative, such as wood-pulp based rayon fabric. Organic mattresses are a step above from a cleanliness standpoint. And a true organic mattress must show that ALL its inner components are certified organic by outside third party entities, such as GOLS (Global Organic Latex Standard), and NOP (National Organic Program). Just because someone proclaims a mattress to be organic, doesnt make it so! Other raw materials that can be used, like wool, should fall under the same scrutiny. Consider that, once cotton has been gathered from the field, if its not certified organic, the process includes chemicals that are used to alter the cloth. DDT and other spray on chemicals are ubiquitous in American cotton fields. Or what if a manufacturer fails to remove chemicals such as vulcanizers or preservatives from the latex (non-certified latex)? These chemicals can include ammonia, for example. And chemical strippers are often used to treat wool. It's not hard to see that these substances and processes are not "natural."
So ultimately, consumers must consider a number of sometimes obvious, sometimes subtle details about the materials and the manufacturing process that contribute to the final product. So to simplify that decision making process, its important to start out with the essential facts about materials and manufacturing steps.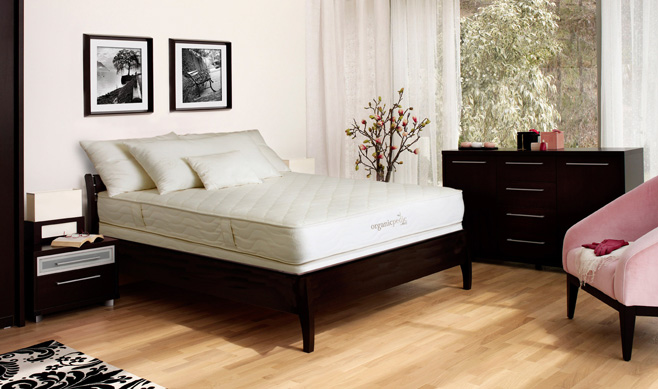 When you want quality Austin beds and mattresses that are healthier for you and your planet, come to Austin Natural Mattress, your destination for greener, sounder sleep in and around Austin.
Popular Choices for an Austin Mattress
Organic Latex Mattress
For the purest in a truly chemical free sleeping environment, experience our organic latex mattress lines: OrganicPedic® by OMI and SavvyRest. A lot of Austin mattress stores throw around the word "organic" very loosely. This is what we call "green washing". Our organic mattresses have 10-15 independent third party certifications. Ask them how many theirs have! If you can find a purer mattress, we'll give you ours FREE. And that's guaranteed in writing. When you're shopping for an organic latex mattress in Austin, come to Austin Natural Mattress. All inner components and completed mattress products are outside, third party certified to be truly organic.
Organic Innerspring Mattress
If you enjoy a more traditional feel, please try our certified organic innerspring mattress line, from Naturepedic. These organic mattresses are hand-made by the Amish, and ultra luxurious. Come in to see a mattress cut in half to see the amazing hand made construction! All inner components and completed mattress products are outside, third party certified to be truly organic.
Organic Cotton, Organic Wool, & Organic Coco Coir Mattresses
If you are into a less traditional mattress, or are wanting a truly organic mattress for less expensive, try these fun alternatives!
Green Memory Foam Mattress
If you're looking for a memory foam mattress in Austin from our Burnet or Bee Caves mattress store location, keep in mind that many popular memory foam products are made from petroleum-based oils that can result in temperature discomfort, off-gassing, allergy problems, and overall unhealthiness. Tempur-Pedic memory foam, for instance, off-gasses 64 VOCs (volatile organic compounds).
Austin Mattress offers a partially natural alternative: open cell, soy-based memory foam, with a much cleaner fire retardant, by WorldBed. A cooler, healthier, less expensive alternative! They sleep cooler, don't off-gas, and cost less than the competition. And to get even greener, we offer a slow-response natural latex mattress that perfectly mimics the behavior and feel of memory foam. Before you run out and spend a small fortune on a Tempur-Pedic mattress in Austin, consider a natural alternative from Austin Natural Mattress.
Adjustable Beds
Adjustable beds are a great choice for persons with back pain — or anyone who likes to work or read in bed! An adjustable bed can be customized to meet your needs for recreation, rest, or work. Our adjustable beds can even be positioned for "zero gravity", ideal positions for alleviating lower back pain. Some of our models are organic, and others wifi compatible, so that they can be ran from your IPad or IPhone!